About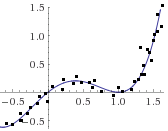 We meet weekly to discuss active projects and recent papers. Participants hail from many disciplines: applied math, computer science, cognitive science, etc. Please join us!
MLRG announcements happen on the ML-READING-GROUP list. Subscribe here.
The MLRG leader this semester is Mike Hughes. Contact: mhughes(AT)cs.brown.edu
Schedule
During spring 2013 (Jan - May), we will meet Thursdays from 12-1pm in CIT 345 .
Next Meeting
Previous Meeting